Meet & Greet at the airport, rental without queues
Mallorca airport service | PMI 24/7
Car rental at the airport
Palma de Mallorca

without deposit

Pickup place
Palma de Mallorca Airport (PMI)
Required field
00:00
00:30
01:00
01:30
02:00
02:30
03:00
03:30
04:00
04:30
05:00
05:30
06:00
06:30
07:00
07:30
08:00
08:30
09:00
09:30
10:00
10:30
11:00
11:30
12:00
12:30
13:00
13:30
14:00
14:30
15:00
15:30
16:00
16:30
17:00
17:30
18:00
18:30
19:00
19:30
20:00
20:30
21:00
21:30
22:00
22:30
23:00
23:30
00:00
00:30
01:00
01:30
02:00
02:30
03:00
03:30
04:00
04:30
05:00
05:30
06:00
06:30
07:00
07:30
08:00
08:30
09:00
09:30
10:00
10:30
11:00
11:30
12:00
12:30
13:00
13:30
14:00
14:30
15:00
15:30
16:00
16:30
17:00
17:30
18:00
18:30
19:00
19:30
20:00
20:30
21:00
21:30
22:00
22:30
23:00
23:30
Search
Search
Google user ratings
5.0
5.0
No deposit or block of funds
Full coverage | no excess included
Additional driver free of charge
5/5
Good service! When we flew to Mallorca we rented a car from Rentaholiday. Everything went without any problems or queues, we will use them again next time
Monica Gram, Ireland
5/5
We really enjoyed our trip to Mallorca, hired a car at the airport. Everything went perfectly, thank you!
Elizabeth, USA
5/5
I travelled to Mallorca airport for work and hired a car from Rentaholiday. Thank you, everything went quickly and without any additional questions and payments.
John Wise, UK
5/5
Good car rental service in Mallorca airport! Clean cars, it's very important for us. Victor was always in contact and answered our questions quickly, thanks again!
Valery Adams, Mallorca
5/5
Thank you very much for your service. We hired a car at PMI airport. We had a wonderful holiday, no queues, no funds blocked in our account, full coverage included.
Briana and David, UK
5/5
We really enjoyed our trip to Mallorca, hired a car at the airport. Everything went perfectly, thank you!
Tom Martyn, Canada
Car hire without deposit
The car hire at Palma de Mallorca airport with us is without deposit, without blocking the funds on your card. The price you receive when you confirm your booking is final, with no hidden charges or additional fees. Insurance and taxes are already included. Everything is fair and clear.
Full insurance cover is included
When you rent a car from us, you automatically receive full car insurance for the entire rental period at no extra charge, no damage limits and unlimited mileage. And also, fast and free replacement of the car in case of its malfunction. And peace of mind throughout your holiday in Mallorca!
Car rental without prepayment
You have a choice how to pay for the car, choose how it is more convenient for you: pay for the rental car in advance online or do it on arrival, when picking up the car at the airport of Palma de Mallorca by card. We trust you completely and appreciate you as a client. With us, renting a car is always convenient, reliable and easy!
No queues or long waits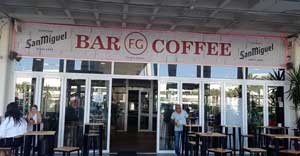 After collecting your luggage, you must notify our representatives at Palma de Mallorca Airport of your arrival, (contact telephone numbers and detailed instructions for collection will be sent to the email address you have provided upon completion of your request) State your name, exit the terminal and cross the street and pass directly under the bridge. There will be a BAR COFFEE in front of you in the express parking area. Our staff will be wearing bright orange t-shirts. They will deliver your car to you within 10-15 minutes of you calling them or you will be given a free shuttle to the car park. The only thing left to do is to confirm your identity on the application form and documents (don't forget to bring the original documents you provided when booking the car on our website and your booking voucher). After that, you will be given the key to your car and have a happy journey! And in order to return the car on the appointed date and time, you just need to bring it to the pick-up place, also by calling us 15-20 minutes before you arrive.
Guarantee of always getting a new car
Every six months the fleet changes, trying to keep up with the times, the fleet of cars in Palma de Mallorca is periodically renewed, which gives the guarantee to get a well-maintained car that meets modern requirements.
Keep up to date and be the first to know
Welcome to the Rentaholiday community!
Our team will find the best options and offers for the upcoming season and be sure to inform you about rates and important, and most importantly, beneficial changes in the prices and conditions of local suppliers