Conveniently located rental office
Car rental in
Sa Coma, Mallorca
Pickup place
Sa Coma, Palma de Mallorca, Spain (COM)
Required field
00:00
00:30
01:00
01:30
02:00
02:30
03:00
03:30
04:00
04:30
05:00
05:30
06:00
06:30
07:00
07:30
08:00
08:30
09:00
09:30
10:00
10:30
11:00
11:30
12:00
12:30
13:00
13:30
14:00
14:30
15:00
15:30
16:00
16:30
17:00
17:30
18:00
18:30
19:00
19:30
20:00
20:30
21:00
21:30
22:00
22:30
23:00
23:30
00:00
00:30
01:00
01:30
02:00
02:30
03:00
03:30
04:00
04:30
05:00
05:30
06:00
06:30
07:00
07:30
08:00
08:30
09:00
09:30
10:00
10:30
11:00
11:30
12:00
12:30
13:00
13:30
14:00
14:30
15:00
15:30
16:00
16:30
17:00
17:30
18:00
18:30
19:00
19:30
20:00
20:30
21:00
21:30
22:00
22:30
23:00
23:30
Search
Search
You may have already noticed that the search form does not allow you to select dates for more than 28 days hire. If you require car hire for 30 days or more in Sa Coma, Palma de Mallorca, please contact us in a convenient way using any of the messengers listed below.
Please be sure to include the required pick-up and return dates, vehicle requirements (automatic, manual, mini or larger, etc.) and contact details where you can be reached.
Regards to you, Rentaholiday team!
Full coverage - all inclusive
24 / 7 Support at your disposal

Without deposit or prepayment
Make a reservation
online
Get an instant
confirmation
5/5
Very much liked both the service of the company and the quality of the car. Instructions for pick up and drop off are available and clear. Transfer from the airport and back. Service in different languages. No deposit and full insurance. I think the price to service ratio is perfect. Thank you
Natalia , Sweden
5/5
We are very pleased with the service, 24/7 support. The car is new, the rental is without problems and pitfalls. Everything is clear, without delay. Thanks to Car rental Mallorca Rentalholiday and Victor.
Yulia Karpenko, Ukraine
5/5
Great company - minimum documents, no deposit, very fast processing, good car! They responded to messages immediately. We will definitely use this company when we visit Mallorca again! Thank you very much! We are very pleased. Recommended!
Liam, GB
5/5
We rented a car for the holiday period from 13.08.2023 to 22.08.2023. Organisation and support throughout the entire period of operation at the highest level. Communication 24/7. The car is in excellent condition. Automatic, which greatly facilitated our "walks" on serpentine roads. Air conditioning was very helpful. The car is clean, neat. Comfort was provided for us. The price is more than adequate. No deposit for rent is required. RECOMMEND!
Viktar, Belarus
5/5
I rented a car for 10 days from this company. Very satisfied with the service. Fast communication, competent staff helped me to make a choice quickly. The car was in perfect condition. Full insurance coverage, no security deposit. Transfer from and to the airport. I could not find better conditions in Mallorca. I will definitely contact again
Michael, Palma de Mallorca, Spain
5/5
Yes, I love travelling in Spain. Travelling by convertible was a pleasure this time too. I don't speak Spanish very well, but it worked out really well. I'll definitely be booking something there again in 2024.
Even, Germany
Car rental without deposit
No deposit or block of funds on the card. The price received upon confirmation of the reservation is final. You can be absolutely calm, no hidden fees and unexpected surcharges await you. Choose the car that suits you in terms of price and comfort and pay only for the rental days. Everything is already included in the price.
Full coverage included
Peace of mind during your journey. When you rent a car from us, you automatically receive full insurance coverage for the entire rental period with no surcharges, no damage limits, hidden deductibles and more. Free replacement of the car in case of malfunction. Full insurance cover for all events included!
Rent a car without prepayment
Pay in a convenient way: On arrival at the car hire office in Sa Coma in Palma de Mallorca by card or by prepaying online via the link you will receive when confirming your order. Rent a car in Sa Coma in a way that is convenient for you with maximum customer comfort. Renting a car has never been so easy and convenient.
No queues and long waits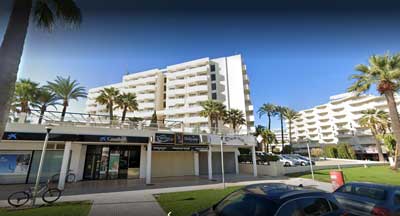 To collect your vehicle, you must come directly to the office located at Avinguda de les Savines, Sa Coma, 07560 Balearic Islands. The office opening hours are from 09.00 to 21.00, so plan your pick-up and return accordingly. And remember that we work on advance reservations made at least 24 hours in advance. Don't forget to bring the documents for identification of your identity, the numbers of which you indicated when booking the car online, the booking voucher (not obligatory) and a payment card with sufficient funds to pay the amount specified in the car rental voucher. If you still have questions, you can always ask them at the office of our representative.
Always clean and new cars
The fleet of cars undergoes timely renovation, at least once a year, and before each rental the car undergoes special disinfection and cleaning, which guarantees that you will receive a virtually new car that meets the requirements of modern standards and quality, as well as the health safety of you and your family.
Cheap car rental in Sa Coma, Mallorca
It's no secret that rental prices increase not only depending on the density of tourist traffic, but also as the dates of the upcoming rental get closer, so the most reliable way to get an attractive price offer is to rent a car in Sa Coma in Mallorca - online and well in advance. Searching for a car on the spot, especially during the high tourist season, is usually not as economically attractive and convenient. Our advice is to plan ahead, check prices and availability periodically on our website and book your car well in advance. When you arrive at Sa Coma in Palma de Mallorca, all you have to do is sign the contract and collect your car, saving you maximum time and money.
Rent a Car in Sa Coma - mileage not limited
Sa Coma - full coverage car hire
Driver's age and experience for hire in Sa Coma
Documents for car rental in Sa Coma
All details are in place and the contract is complete, all that remains is to sign! Don't forget to bring the original documents (your Passport, Driver's Licence and payment card in the name of the main driver) that you specified when booking the car on our website and the booking voucher. Only your signature is needed. Printed voucher is welcome but not obligatory, you can show reservation confirmation from your phone at the office upon receipt. If you have named the 2nd and all subsequent drivers on the application form, they must also present the accompanying documents proving their identity. The possession of an international driving licence does not obviate the need for a full driving licence in the name of the main driver. Also note the validity of the documents, they must be in order for the entire rental period. If there is a need to extend or renew one of the documents, please take care of it in advance.
Sa Coma, Mallorca | Fuel policy
With 24/7 support throughout the rental
Office working hours 09:00 - 21:00
Our popular Car Rental Destinations
Asturias Airport (OVD)
Bilbao Airport (BIO)
Valencia Airport (VLC)
Granada Airport (GRX)
Girona Airport (GRO)
A Coruña Airport (LCG)
Menorca Airport (MAH)
Murcia Airport (RMU)
Seville Airport (SVQ)
Seve Ballesteros Airport - Santander (SDR)
Santiago de Compostela Airport (SCQ)
Jerez Airport (XRY)
Aviles Railway Station
Alicante Railway Station
Barcelona Railway Station
Valencia Railway Station
Madrid Chamartin Railway Station
Madrid Atocha Railway Station
Malaga Railway Station
Huelva Railway Station
Ponteverdra Railway Station
Gijon Railway Station
Menorca
Ibiza
Formentera
Fuenteventura
Gran Canaria
Lanzarote
La Gomera
La Palma
Keep up to date and be the first to know
Welcome to the Rentaholiday community!
Our team will find the best options and offers for the upcoming season and be sure to inform you about rates and important, and most importantly, beneficial changes in the prices and conditions of local suppliers