in 135 rental locations in Spain
Spain

Car Hire at the best price
Cheap car rental in Madrid in Barcelona in Malaga in Alicante in Mallorca in Valencia in Almeria in Murcia in Ibiza in Menorca in Formentera in Seville in Tenerife in Gran Canaria in Lanzarote in Bilbao in Jerez in Granada in Fuerteventura in La Palma in Santiago de Compostela in Asturias in Oviedo in Zaragoza in Girona in A Coruña in Santander in Vigo in San Sebastian at Atocha Train Station at Chamartin Train Station at Formentera Port in La Gomera at Puerto de la Cruz
Best conditions of coverage
Always new and clean vehicles
Instant order confirmation
90% of Google users rate "Excellent"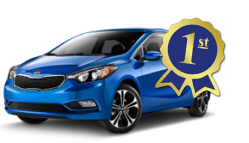 Car hire offers in Spain are selected for you on the basis of the ratings and reviews given by our customers
We are recommended! Recent feedback from our customers
5/5
I rented a car in Spain in spring, no problems, quick processing. Received and handed over the car directly at the airport.
Lassy Nilund, Finland
5/5
Best car hire in Spain. I searched and compared for a long time, on your website I found the most attractive prices and conditions. Full insurance for a symbolic payment, no problems. The car provided was new with minimal mileage. Recommended
James Wilson, Spain
5/5
Renting a car through this 5-star company has taken the business to another level - outstanding from first contact to car drop off after our holiday. Brand new car, full insurance, no deposit, no fuss, meet and greet, and took less than 5 minutes to receive/drop off the car. Staff are extremely useful, polite and prompt! Extremely pleased and impressed that such services do exist! Will never book with anyone else in the area in the future!
Thank you for a wonderful experience!
Johnny Zamfir, United Kingdom
5/5
I recommend Rentaholiday! I am really happy about their service in Spain!
Anna Mikielevicz, Poland
5/5
Great service and easy to find a rental car.
M. Mauritius, USA
5/5
Excellent service! Support in the native language. Always in touch! No pre-blocking on the card. The rental car was provided in the agreed time, met the stated requirements. Minimal time when receiving the delivery of the car. Extended promptly! Next time I will definitely rent through your company.
Steven Gareth, Spain
Best Price Guarantee
Start your car search on our website and we will check the offers of the entire rental market in seconds, and direct prices from the supplier will allow you to rent a car at the best possible conditions in Spain.
Excellent coverage conditions
At the time of booking your car take advantage of the full cover option, this allows you to feel more comfortable on your journey in Spain, minimise your risks as much as possible and protect your deposit.
Free cancellation
If suddenly your plans change, almost 90% of rental offers have a free 48 hour cancellation option, the search results will show you the exact time frame that will allow you to make the free cancellation
Simple and clear rental terms and conditions
Simple and clear terms and conditions, maximum transparent prices and instructions. No hidden fees, intrusive offers and commissions. The most flexible rental selection system. Pay only for what you need. No prepayment for additional options in most of our offers, the ability to change your choice at any time.
Instant confirmation of rent
All cars and prices you see in the search results are a public offer for car hire in Spain, so you do not have to wait for additional checks on availability or price relevance, you will receive a confirmation immediately after completing the request. The voucher will also include detailed instructions on how to collect the car and contact details of the rental office.
Wherever you are: at home, at work or on the go with your cell phone, using our advantages you will quickly and easily find only the right and tested offers on the car rental market in Spain
Best car hire service in Spain
The placement of the offers in the catalogue is influenced by the customer himself, leaving reviews and comments after each booking. Therefore, when choosing a car and its rental supplier in Spain, you can safely rely on the opinion of people who have already used the service. The offers are already selected based on the reviews, so by using the smart filter you can sort them and choose the best of the best. Statistics are collected on an hourly basis, so the renters themselves strive to improve their position in the catalogue by offering a quality service.
Cheap car rental in Spain
Benefit from the experience of the experts Renting a car in advance allows you to save up to 70% on your booking. Looking for a car when you arrive at the train station, for example, or in the city centre, especially during the high tourist season, is not only uneconomical, but also time-consuming. Moreover, you have to take what is available and under conditions that are not always favourable. Based on personal experience and user surveys, we have found that the price increases as soon as you start booking. So by planning ahead you can get the maximum benefit.
No deposit car rental in Spain
Manage the conditions of your booking yourself. You don't need any excess option or you may have your own insurance coverage? Choose car rental without excess, simply select the desired filter in the search results and you will receive a list of offers from suppliers with this booking option. This offer is not always available, but in most cases you can take advantage of it. You can also choose the amount of deposit to be paid if you find a more attractive offer in our catalogue with deposit option. Car rental is convenient
Our popular Car Rental Destinations
Asturias Airport (OVD)
Bilbao Airport (BIO)
Valencia Airport (VLC)
Granada Airport (GRX)
Girona Airport (GRO)
A Coruña Airport (LCG)
Menorca Airport (MAH)
Murcia Airport (RMU)
Seville Airport (SVQ)
Seve Ballesteros Airport - Santander (SDR)
Santiago de Compostela Airport (SCQ)
Jerez Airport (XRY)
Aviles Railway Station
Alicante Railway Station
Barcelona Railway Station
Valencia Railway Station
Madrid Chamartin Railway Station
Madrid Atocha Railway Station
Malaga Railway Station
Huelva Railway Station
Ponteverdra Railway Station
Gijon Railway Station
Menorca
Ibiza
Formentera
Fuenteventura
Gran Canaria
Lanzarote
La Gomera
La Palma
Keep up to date and be the first to know
Welcome to the Rentaholiday community!
Our team will find the best options and offers for the upcoming season and be sure to inform you about rates and important, and most importantly, beneficial changes in the prices and conditions of local suppliers